All The Insights You Can
Ask From Your Streets
INTRODUCING  OUR CUTTING-EDGE  IoT + AI PLATFORM
Our unique platform seamlessly gathers public space data wirelessly and equips cities with profound insights and instantaneous alerts, addressing a myriad of use cases while steadfastly upholding privacy standards.
We solve countless use cases without compromising on privacy
Roads got life-saving data. We aggregate it for you
Strengthening the city's pulse
Smart insights from the street to your dashboard
Introducing RoadSense's Platform as a Service (PaaS), an advanced solution that surveils public spaces in real-time while maintaining strict privacy protocols. Our system digitizes gathered information, incorporating sophisticated AI layers to address diverse use cases in the public sphere, ranging from safety and security to promoting equality and well-being.
Experience the power of our data delivery, providing real-time alerts, actionable insights, accurate counting, and other robust tools—enabling you to effectively and proactively manage your city.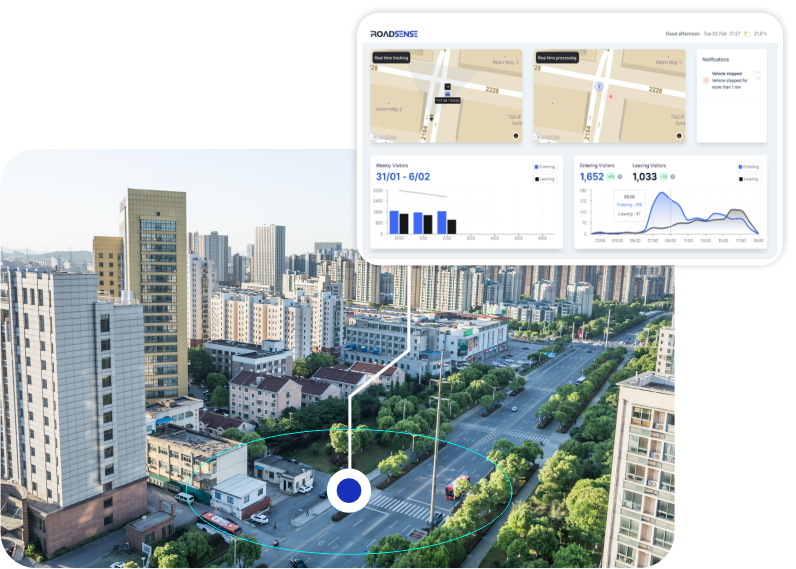 We understand your public space
Recognizing that the public space is a pivotal element in the future development of cities, our continuous monitoring unveils the secrets and patterns of people and mobility shaping urban landscapes. Employing our Platform as a Service (PaaS) promises to usher in a new era for cities—fostering safety, security, and elevated well-being. This transformative approach also contributes to the reduction of energy consumption and carbon emissions, aligning cities with ambitious Net-Zero targets.
Choose location you would like to get data from
Installing our sensors is fast and easy, with minimum interference to the urban scenic
All the ANSWERS you're looking for is in your dashboard, smartphone and email
Greater oversight is needed of sensors installed by commercial organisations in privately owned public spaces, according to a new report....
More people died on U.S. roadways last year than any year since 2005, according to new data released Tuesday by...
A smart city is a place where traditional networks and services are made more efficient with the use of digital...
Our partners span the globe
Let's solve your challenges together