All The Insights You Can
Ask From Your Streets
RoadSense, an IoT platform that aggregates public space data wirelessly, providing cities with deep insights and real-time alerts to solve numerous use cases, without compromising privacy,
We solve countless use cases without compromising on privacy
Roads got life-saving data. We aggregate it for you
Strengthening the city's pulse
Smart insights from the street to your dashboard
RoadSense's PaaS (Platform as a Service) is a solution that monitors the public space in real-time without any privacy breach, digitizes the information, adding additional AI layers, to solve countless use cases in the public space, related to safety, security, equality, and well-being.
Our data is delivered as real-time alerts, insights, counting and other powerful tools to help you manage the city better!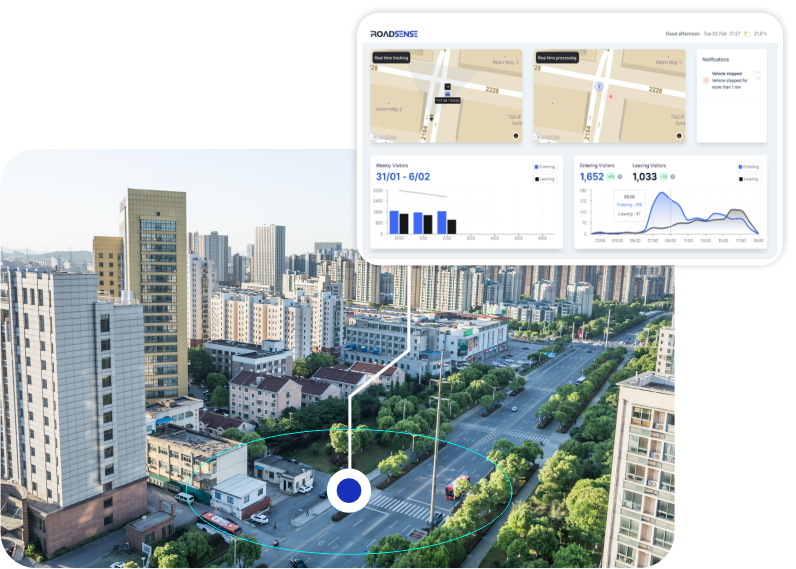 We understand your public space
We know the public space is THE factor in the city's future development.By continuously monitoring the public space , we find the city's secrets, the patterns of people and mobility.
Using our PaaS will lead to safer cities, more secured with enhanced well-being, reduced energy consumptions and carbon emissions, helping cities achieve the Net-Zero targets.
Choose location you would like to get data from
Installing our sensors is fast and easy, with minimum interference to the urban scenic
All the ANSWERS you're looking for is in your dashboard, smartphone and email
Greater oversight is needed of sensors installed by commercial organisations in privately owned public spaces, according to a new report....
More people died on U.S. roadways last year than any year since 2005, according to new data released Tuesday by...
A smart city is a place where traditional networks and services are made more efficient with the use of digital...
Our partners span the globe
Let's solve your challenges together